One of my dreams have (finally!) become a reality:

I am a proud owner of a Le Creuset 5-quart dutch oven in cherry red!! I've been wanting one for as long as I can remember, but the expensive price tag (and my lack of cooking skills) had always deterred me from getting one. But now, thanks to Airmiles I have one to call my very own!!

It just arrived today via UPS, and it's sitting on top of the desk as I type this...I just can't stop staring at it. It is truly a thing of beauty! I can't wait to use it!! I plan on cooking this Ina Garten beef stew as the first recipe to 'break in' my new pot tomorrow night. Yes, I secretly am a 50's housewife.

Ever since I saw that Airmiles was offering this LC pot as a reward, I couldn't stop thinking about it. I don't know why I didn't just get it as soon as I saw it on the website. I think a part of me didn't want to get it, knowing I couldn't give the pot the home it deserved - a home where it would be used on a regular basis, and not just held and gazed upon. It's only been in the last few weeks that I've been finding recipes that require the use of a dutch oven. Mainly stews. I've been craving a good hearty stew for quite some time now. Actually, scratch that. I

always

crave a good hearty stew. Even though I've never made one in my entire life. Brett thinks it's the cold weather that's making me crave it. Truthfully, I'm a soup person. I

love

soup. If I could, I would live off of nothing but soup and a good chunk of bread. Speaking of which, I keep coming across recipes like this one where you bake the bread in the dutch oven. That is next on the list. Recipes like that and the intense and growing craving for stew is what forced me to finally cave in and get the coveted LC pot.

Arg! I just looked on the Airmiles website and discovered that they are now offering the same pot that I just got...but in blue!!!!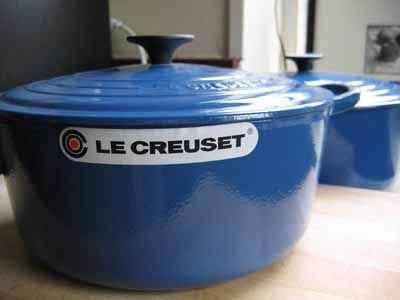 My new mission: to earn as many reward miles as possible ASAP so that I can acquire the blue LC pot to go with my red one. Clearly you can never have too many of these LC dutch ovens! Anyone who has one can tell you that, when taken care of, these pots can last for well over 15-20 years! And anyone who has one will swear that food just

tastes better

after being cooked in one of these bad boys. I don't know how or why, it just does.

One of my goals in life is to own this set in teal:

Brett thinks it's weird that I covet this, and weirder still that I am obsessed with having a cupboard-full of LC pots in every color. But mainly the teal ones. If they had pink ones...I would seriously go N-U-T-S!!! Aside from the dutch ovens, I love the rectangular casserole dishes and the petite casserole pots with the lids. I can envision making shepherd's pie and individual chicken pot pies in them. One day I strive to have a kitchen like Anna Olsen from the Food Network. In her show Fresh, she has a shelf lined with LC dutch ovens in various colors.

I'm also madly in love with these:

LC heart-shaped ramekins. Ah, ramekins...another obsession.